How to turn a name drop into a referral
May 19, 2017, 10:40 a.m. EDT
BELLEVUE, Wash. — Consultant Dan Allison has an advisor who taught him a valuable lesson that went beyond financial advice. The planner's client had mentioned his name to a colleague with a wife and five kids, a $500,000 salary and bad spending habits. The planner didn't follow up with the client.
Instead, he merely thanked his client for passing his name along, taking it for granted he wouldn't be hearing from the prospect.
Only about six months later, the client's colleague and two of his daughters died in a car accident. He had no life insurance and less than $100,000 in the bank, according to Allison. The tragedy three years ago transformed his advisor's approach, Allison said.
"He said something I'd encourage any of you to remember: 'When somebody tells me they gave my name out, it's my job to meet those people,'" Allison said here Thursday at the NAPFA conference outside Seattle. He said he'd regretted missing the opportunity to help the prospective client.
ACUTE FEE-ONLY PROBLEM
Advisors too often let a name drop go by without taking proactive steps to turn it in to a referral, according to Allison, the owner of Omaha, Nebraska-based referral research and consulting firm Feedback Marketing Group. A simple email introduction or lunch meeting could seal the deal.
Too many advisers have damaging misconceptions about how to get influential people to send clients their way.

October 26

Only 2% of clients refer someone because their adviser asked. Instead, word-of-mouth is the best strategy, and digital marketing is one way to get it.

September 30

Embracing technology is no longer an option. Here's how David Root of D.B. Root & Co. uses it to build his brand and finds prospects.

September 7
The problem is especially acute for fee-only advisors who shy away from what they fear is a sales pitch, Allison said. But they can earn crucial referrals when they seek feedback from clients and other financial professionals, learn which clients might refer others and change their view of the process, he added.
"I found that the people who sold products and were transactional deserved referrals the least but were the most comfortable asking for it, because they had very little risk," Allison said. "I found that the people like you who deserved it the most, whose clients trust them the most, asked the least. They brought it up the least because it was an uncomfortable topic."
The issue extends beyond clients, as some advisors miss out on what others have called "centers of influence." Allison, who has examined advisor referrals for 12 years, described accountants, attorneys, business owners and even other advisors with different specialties are valuable referral sources.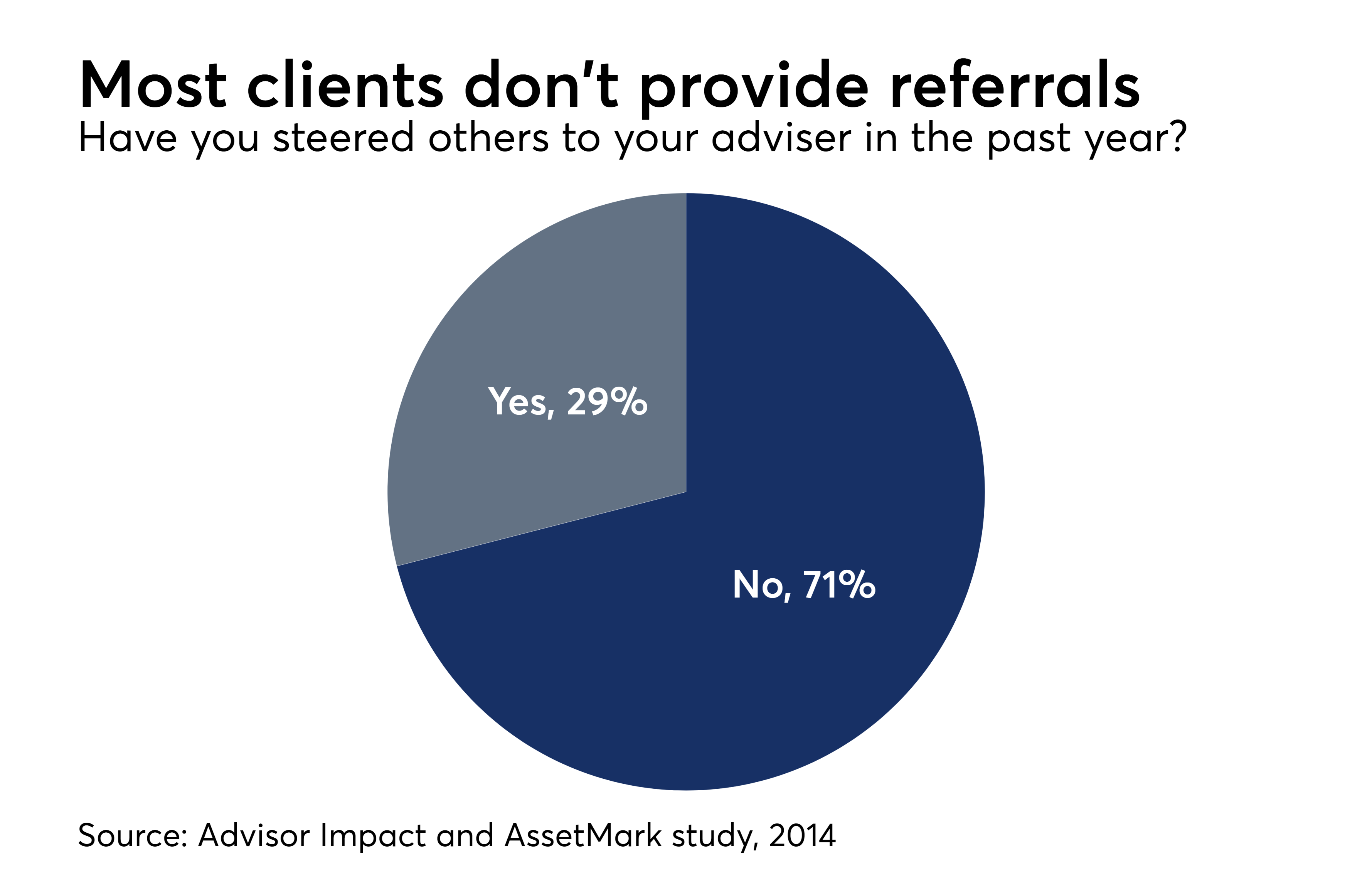 While talking with clients makes a good first step, some caution not to ask directly for a referral. Only 29% of clients provide them, according to a 2014 study by Advisor Impact and AssetMark. The figure rose to 40% when advisors asked for one and up to 72% when advisors asked clients for feedback.
Referrals are the "lifeblood" of a practice, and clients are "your biggest advocates," but fee-only advisors do frequently avoid talking about them, said Irene Giman of RTD Financial in Cherry Hill, New Jersey.
"Because we don't sell, we're not salespeople," she said. "So it's anathema to discuss."
PILOTS AND TRAVEL AGENTS
Allison broached the subject with a set of analogies and altered terminology. The problem doesn't relate to "cross-selling," but rather to "cross-education," because most clients don't know all of the services and skills offered by their advisor, he said.
Fee-only advisors should describe themselves as pilots while likening their commission-based competitors to travel agents, according to Allison. And approaching clients about referrals will tell advisors whether they are "gold mines" or "land mines" who shouldn't be bothered, he said.
"It's a land mine, move on," Allison said. "You didn't make them that way. They also don't recommend movies and restaurants."
Allison earned laughs with the joke, but he connected his personal experiences to his message. The family of his advisor's other client, suffered "absolute emotional devastation" that was "compounded by financial devastation," he said.
Additionally, both Allison's father-in-law and his mother are battling stage 4 cancer but have lapsed life insurance policies sold to them by the same broker, he explained. And only last week, a previous business partner of his died from a heart attack at 51 without his finances in order.
"Any time I talk to a group of advisors, I think about, collectively, how many people in the last 12 months your name's been given to that are out there right now and still don't have help," Allison said.