LPL Financial eyes more M&A halfway through NPH onboarding
February 02, 2018, 10:10 a.m. EST
LPL Financial expects to add about 2,000 new advisors and up to $75 billion in new client assets stemming from the acquisition that has roiled the independent broker-dealer space.
The buyer of National Planning Holdings' assets doesn't plan to stop at just one massive purchase, though.
The nation's largest IBD added 953 advisors with $34.2 billion in client assets in the fourth quarter after acquiring NPH's assets, the firm said this week. CEO Dan Arnold predicts the second wave of the transition will bring about 1,000 more new advisors in the next quarter.
Earnings jumped 54% year-over-year to $64.1 million, almost double analysts' expectations of $32.8 million. Its client assets also surged 21% to $615 billion. However, LPL paid $64 million for ex-NPH advisors' onboarding and transitional expenses, with up to $96 million more slated for 2018.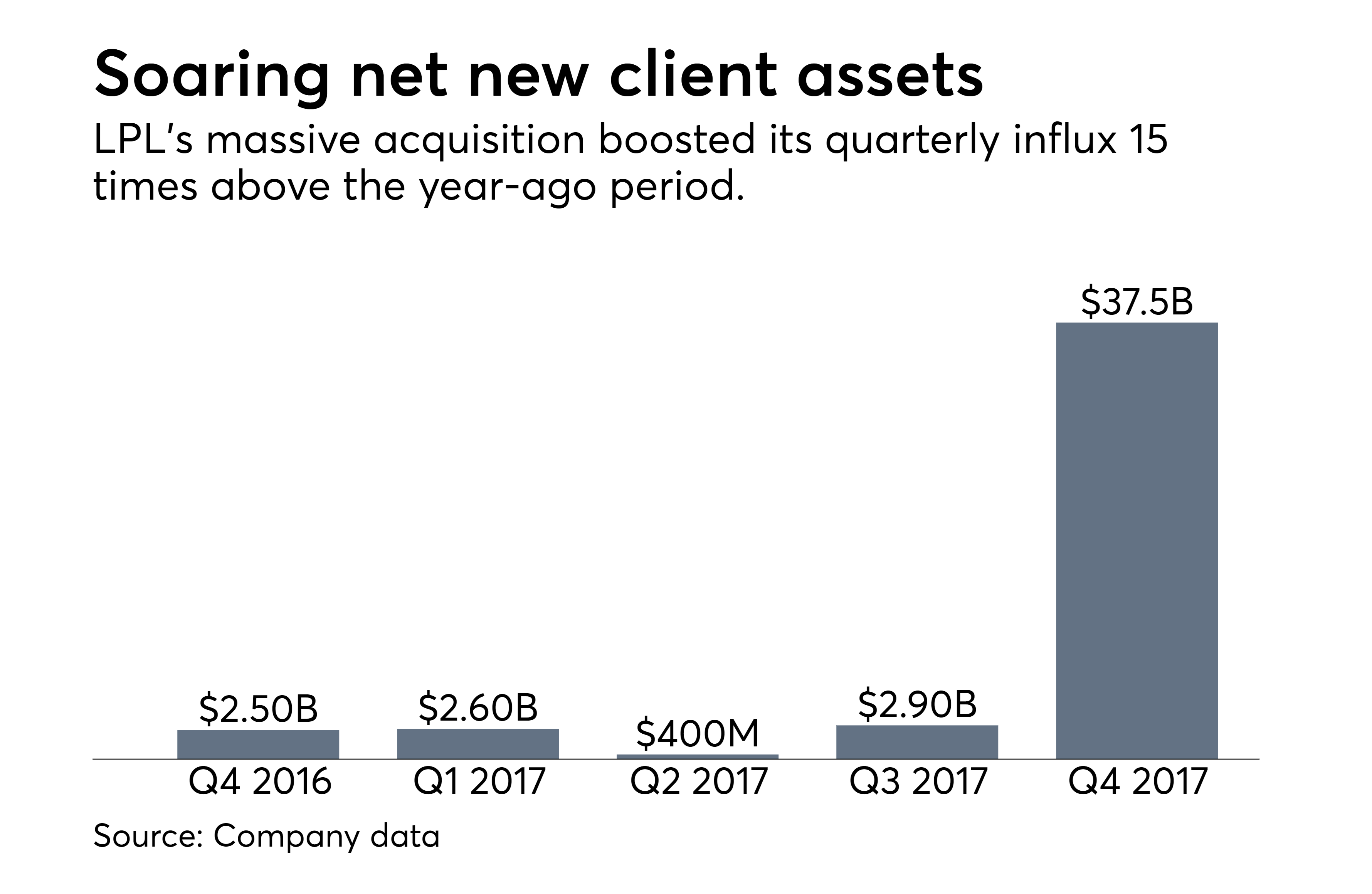 About $15 billion in advisory assets of NPH's total $120 billion in client assets remains off LPL's platform with other custodians or in outside turnkey asset management programs. Additionally, rivals grabbed hundreds of NPH advisors with at least $18 billion in client assets after the deal.
In fact, LPL estimates around 1,200 advisors from NPH's four IBDs will end up at other firms, Arnold and CFO Matt Audette told analysts on an earnings call. The fact that the firm expects it will retain 70% of NPH's production with just 62% of its 3,200 advisors shows the quality of the advisors LPL is onboarding, Audette argued.
LPL is also leaving the door open to future acquisitions in the second half of the year, since the firm continues to see the industry as ripe for consolidation, Arnold said.
"M&A can drive meaningful long-term value and complement organic growth," he said. "Our work with NPH reinforced this view. So while we are focused on smoothly onboarding NPH now, we are also positioned to take advantage of future opportunities as they arise."
CEO Dan Arnold said the acquisition of NPH's assets will serve as a model for the future.

October 27

CEO Dan Arnold said advisers' uncertainty about the fiduciary rule is waning.

July 27

Dan Arnold expects that upheaval to lead to more movement of advisers and assets.

April 28
LPL's acquisition of National Planning Holdings' assets alone resulted in 10 moves of $744 million or more of clients assets.
December 18
The firm's headcount grew to 15,210 advisors in the fourth quarter, up 6% from the year-ago period. Ex-NPH advisors will push LPL's headcount beyond that of the largest wirehouse, Morgan Stanley, if the firm keeps up its projected pace.
At the same time, LPL has also changed its RIA policies, which experts say could hurt its recruiting and retention. The firm slashed fees on its corporate platform at the start of the year, but new advisors must place at least $50 million with the corporate RIA before joining any hybrid RIAs.
On the strength of the NPH advisors, the corporate platform added $11.1 billion in net new advisory assets in the fourth quarter, compared to $2.9 billion to the hybrid side. The incoming advisors brought $26.6 billion in brokerage assets and $7.7 billion in advisory assets.
About $7.2 billion of the advisory assets went to the corporate platform, which the firm refers to as "centrally-managed advisory assets." The lower fees for the corporate RIA will cost LPL $3 million each quarter, but the additional assets coming in will offset the expense, according to Audette.
LPL unveiled the new policies in November, and its hybrid platform still grew faster than the corporate one in 2017. Assets under management at the firm's hybrid RIAs grew 34% to $113 billion for the year, compared to the corporate RIA's 20% gain to $160 billion.
Lower fees on the corporate RIA, along with new capabilities, have been received favorably by existing and prospective LPL advisors, Arnold said. He stressed that the changes are too recent to form judgments from the asset levels, noting he could only judge the initial reactions of advisors.
"Based on that dialogue, we feel that we're on the right course and right trajectory with that," Arnold said. "At the same time, we've got to continue to ensure that our hybrid program is competitive, and we will continue to invest in that hybrid program."
The firm earned 69 cents per share on revenue of $403.2 million, up 50% from 46 cents per share during the year-ago period. LPL's stock price rose almost 4% to $63 per share in after-hours trading after the earnings far outpaced analysts' estimate of 35 cents per share.